Sat Mar 19, 2005

STEP-UP BUS STRIKE SOLIDARITY!

Marty Goodman
NY TWU 100 Executive Board Member
spewnyc@aol.com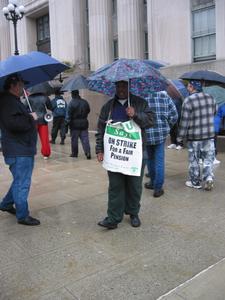 WE NEED TO STEP-UP OUR solidarity with the Bee-Line Bus strike. At the moment, talks are stalled due to the arrogance and greed of the Bee-Line owners and their friend, County Executive Andy Spano. TWU Local 100 needs to turn up the heat.
I went to the White Plains strike rally last Thursday and found the strikers really psyched for battle. Several hundred Bee-Line workers were there chanting and pumping their fists in the air. Organizers say that every Bee-Line worker supports the strike and there are no scabs. Great.
Unfortunately though, few members from other divisions were present. Yes, it was a mid-day rally so the AM workforce couldn't make it but many PMers and night people could have.
On the days that I've managed to get to the picket lines (I have no car) only a few members from other divisions were there besides union staffers. Thanks unacceptable. There should at be hundreds walking the line from other divisions!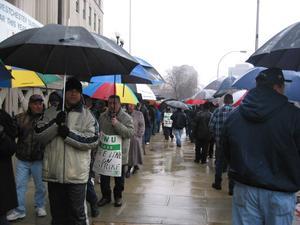 We hope the strike will end soon, but it could get nasty and become a protracted battle. One thing's for sure: Local 100 needs to play catch-up ball.....fast. We must bring the entire weight of our union down on the heads of Bee-Line management and Westchester County. That's not going to happen by accident; the Toussaint leadership must step up to the plate. We must build a culture of resistance and solidarity in Local 100.
The fact that some Divisions are now raising money for strikers is great but a Local-wide fight-back, struggle perspective is what's needed most. As we"ve learned in the token booth fight, small photo- ops with politicians aren't enough to win. You need a mass mobilization of THE MEMBERSHIP.
What's more, the Bee-Line strike and the plight of all PBL workers - should be seen by us as a dress rehearsal for our December contract fight. The MTA is watching our every move.
AS AN EXECUTIVE BOARD MEMBER I CALL FOR AN EMERGENCY JOINT EXECUTIVE BOARD MEETING OF ALL OFFICERS ASAP AS IN YESTERDAY! - TO TAKE EXTRAORDINARY MEASURES TO DEVELOP LOCAL-WIDE BEE-LINE STRIKE SOLIDARITY.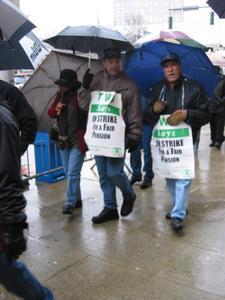 Here are some ideas for discussion:
** Reach out to all members about the issues: Local-100. A Phone Blast to each member such as Toussaint's recent one about Irish leader Gerry Adams must begin, coupled with mass action. A special strike edition of the Local 100 Express should come out as well as regular strike bulletins sent out via email and leaflets.
** An emergency Local-wide mass membership meeting.
** A special shop stewards meeting to help spread the word.
** Organize shopgates throughout the Local.
** Organize and advertise Local-100 bus/van shuttles to picket lines and rallies.
** A well-planned Local 100 demonstration in downtown White Plains in support of the strike. A big rally would force Bee-Lines, Westchester County and New York City to ask themselves, Will Local 100 members extend their anger and solidarity to job actions within NYC itself? That's added pressure.
** Mass leafleting of passengers. Advertise to members.
** On the job activities in support of Bee-Line workers, such as overtime boycotts and other activities.
** Begin serious strike preparation by the Local. That will scare the MTA  resulting in a phone call to Spano for sure - and, at very least, lay the groundwork for our December contract fight.
** If other PBL workers are not yet covered by the Taylor law - and still in a legal limbo - then militant solidarity may be easier to organize. 500 Bee-Line workers and their families are in a pitched battle over their futures. Our solidarity is more than a nice idea, it's  a necessity.