Japan Union Doro-Chiba Organizes Solidarity Action In Yokohama For Striking Conn Selmer UAW354 Workers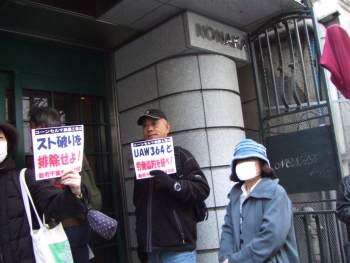 THE labor network TCCLU, Doro-Chiba, Kanagawa Amalgamated Labor Union and other union activists of a total of 28 members, visited Yokohama Head Office of Nonaka Boeki Co., Ltd at approximately 2:30 p.m. yesterday March 14. This company is the distributor of horns by the Conn Selmer company which is being struck by the UAW 364 workers.
When we talked initially on the intercom, Nonaka Boeki arrogantly stated 'Put a letter in a mail drop'. But two persons in charge, Mr. TATEISHI Toru, Chief of Finance Div., and Mr. EJIRI Masamichi, Regional Manager, came down to the entrance of the Nonaka's own building after being aware that numbers of protesters were not so small.
They seemed to know about the current struggle of UAW364, but repeated that they could not respond immediately to the requests stated in our protest letter while adding they were not selling such a poor-quality instruments. We fiercely challenged Nonaka's behavior to support unjust and shameful union busting forced through by Conn-Selmer. And finally they committed themselves to arrange another meeting fairly soon in the presence of more responsible persons.
In Solidarity
Doro-Chiba Support Committee
H. Yamamoto
Doro Chiba doro-chiba@doro-chiba.org
http://www.doro-chiba.org/english/english.htm