Thousands protest governor's plans
A Capitol rally by teachers, nurses, other unions
is among the largest in recent years.

By Alexa H. Bluth,  Bee Capitol Bureau
May 26, 2005, The Sacramento Bee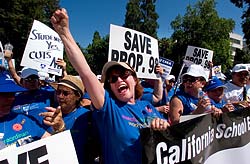 THOUSANDS OF PROTESTORS from across Northern California blanketed the south lawn of the state Capitol on Wednesday in a mammoth gathering to accuse Gov. Arnold Schwarzenegger of turning his back on middle-class workers with his budget and ballot initiatives.
The event drew busloads of teachers, nurses, firefighters, prison guards and other union members on a searing afternoon for a protest that ranked among the largest in recent years.
"It sends the message that there are a lot of people who are really concerned about what he is doing to the state," said Bill Jacks, a physical education teacher at Hemlock Elementary School in Vacaville.
Around him, protesters wearing union T-shirts and toting signs listened to union leaders speak and even sing out against the Republican governor. At times, the crowd chanted, "Hey, hey, ho, ho, Schwarzenegger's got to go."
Organizers furiously handed out bottles of water and granola bars to the crowds of people jammed together in the 90-degree weather. Paramedics helped at least three people who were overcome by the heat.
A crowd of at least 10,000 - organizers claimed more than 20,000 - collected in Sacramento. Thousands also held a similar protest in Los Angeles on Wednesday.
The protests were organized by the Alliance for a Better California, a coalition of workers unions who are fighting Schwarzenegger's budget plans and ballot initiatives - including a spending control measure that could undermine school funding guarantees. Unless he reaches a deal with the Legislature, the governor has said he will call a special election on his proposals for the fall.
"We are here from every town in Northern California to say together 'no' to the governor and 'no' to the governor's special election," said Barbara Kerr, president of the California Teachers Association. "We represent the real people of California. We are a diverse coalition of everyday people that work and make this state run."
A new statewide poll released Wednesday, meanwhile, showed voters aren't clamoring for a fall special election.
The Public Policy Institute of California survey found 62 percent of likely voters said it would be better to wait until the next scheduled statewide election in June 2006. Secretary of State Bruce McPherson has estimated the special election would cost about $80 million.
Schwarzenegger defended his education initiatives at an appearance earlier Wednesday at Natomas Charter School, and said his 2005-06 budget spends $3 billion more on schools than in the current fiscal year.
"The important thing to know is that money is not everything," he said. "If we just throw money at education and at your kids, and think that we have done our job, we will be wrong. We will be shortchanging all of you. It is very important that we make our education system efficient, that we teach the best possible way, that we have the best teachers, the best school principals."
The PPIC survey also found that likely voters are split over how the state should spend $4 billion in revenues that are expected to flow in to the state because of a better-than- expected economy. Of likely voters, 77 percent said they favor the idea of reducing the amount of state debt. But 74 percent also said they favor boosting K-12 education funding. About 55 percent of likely voters said the money should be used to increase spending on transportation projects.
Schwarzenegger's budget plan proposes to use the extra money to reverse his earlier plans to borrow from the state's gas tax fund for highway projects, and to reduce borrowing.
Margaret Fortune, an education adviser to the governor, called Wednesday's protests "straight out of the (California Teachers Association) union playbook of beating the drum for more money even though the governor has increased education expenditures by $3 billion in the budget he proposed in May."
Schwarzenegger's budget plan does include a year-over- year boost for schools, but educators say it falls short of fulfilling an agreement he made last year to put even more money into schools if the economy improved.
Kerr said the governor should take notice of the crowds of people who turned out Wednesday.
"The real reason he is having this special election is to silence the voice of working people," Kerr told the crowd. "Will we let the governor silence our voices? No!"
Several Democratic lawmakers milled about in the crowd, including Assembly Speaker Fabian Núñez.
"They are pretty angry at the governor, there is no question about it," he said.
Copyright (c) The Sacramento Bee