Racist symbols found at American Axle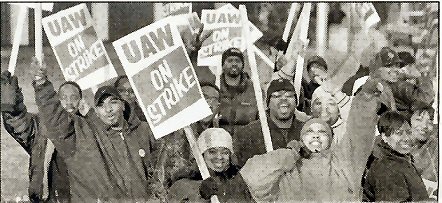 UAW Workers on Strike Against American Axle in 2004
By Ron Seigel
The Michigan Citizen
DETROIT - Workers at the American Axle and Manufacturing plant in Detroit found what appeared to be two hangman's nooses hanging on a buggy at the manufacturing center July 18.
UAW Local 235, which represents the workers, said it was launching an investigation of the incident, and said those responsible could face discharge.
The union's president, Wendy Thompson, and workers of different races and work sections signed a grievance denouncing the racist symbols.
"There was a united reaction that this was wrong," Thompson said.
She said the group grievance showed to those responsible that "they did not have the support of the white workers."
A union leaflet explaining what was on the grievance said, "Our future depends on our ability to be unified and treat each other with respect."
But the leaflet suggested the incident represented an ongoing problem.
"This is not the first time that a hangman's noose has been found on site," the document said. "IT MUST STOP."
The document also suggested the company was partly responsible.
"Management must NOT promote a hostile work environment," it said. "They must play an active role to keep incidents like this from happening. Any activity by MANAGEMENT that promotes racial division should be reported to the Union."
Carrie Scott, corporate relations director for American Axle's Detroit branch, said, "The company has a zero-tolerance policy about such incidents."
Scott said the company arranged for workers to attend diversity training sessions following the incident, but Thompson said it was difficult for afternoon-shift workers to attend because of the small work force and large amount of work during those hours. The ropes were found at 5:15 p.m.
Thompson said that, in the past, the company fired some supervisors who harbored racist tendencies, but transferred others to other departments, "moving the problem to another area of the factory."
Some supervisors were promoted to get them off the floor, she said.
The local union president also said the United Auto Workers, as an organization, was not doing enough to challenge racist attitudes in workplaces.
Her own local is trying to educate workers about what the hangman's noose symbolized by sending them to an exhibit on lynching now at the Charles H. Wright Museum of African American History, Thompson said.